State of the art motion performance is packed in this Simple Motion Module for the iQ-F series micro PLCs. Combine the FX5-40SSC-S Simple Motion Module with the SSCNET III/H compatible MR-JE-B servo system to knock out the competition at cost-sensitive OEMs with top-of-the-line features without the top-of-the-line price.
This combination brings high performance network based motion control to the low cost market. Powerful features borrowed from the flagship products add unprecedented value to this simple motion control solution.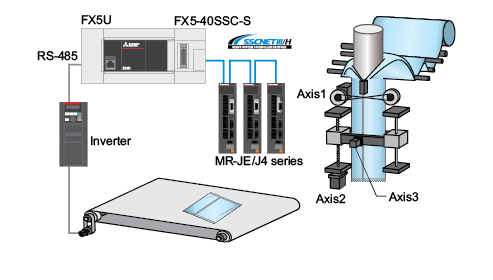 Key Benefits
Flexible – Wide range of features available to improve ease of use and system performance
Advanced One-Touch Auto-Tuning™ – Fast trouble free servo tuning that really works and eliminates time programming around poor servo response
Synchronized motion control – 4 axis of synchronized motion are available enabling functions like camming, gearing and registration
SSCNET III/H communication – This high speed, deterministic, synchronized communication network features high speed noise immune communication, and simplicity that simplifies troubleshooting, and maintenance
Encoder following – Built-in encoder interface simplifier encoder following from external VFDs or equipment
High speed registration – Easily adjust for variation in size and position of incoming product with mark detection function to improve finished product quality
Single software environment – Configuration, programming, and diagnostics are fully integrated into GX Works3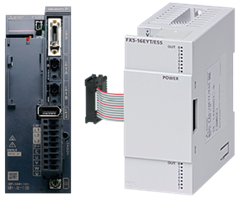 Intuitive Programming Environment
Graphical interface – Easily configure a system and set parameters in GX Works3.
Multiple programming languages – Multiple IEC 61131 programming languages are supported, and can even be used in the same project simultaneously. This flexibility allows the user to program in the most efficient manner for their application.
Motion setup tool – GX Works3 eliminates the need for additional software when using the Simple Motion Module.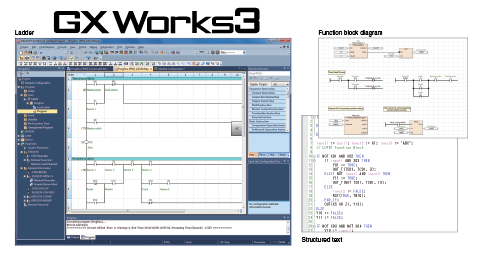 Outstanding Performance
Improve machine efficiency – Mitsubishi Electric provides powerful first-class advanced One-Touch Auto-Tuning that sets gains and filters in real-time. Over the life cycle of the machine, continuous tuning optimizes gains to minimize settling time and eliminate cumulative errors. As the machine ages, system longevity and machine efficiency are improved.
Easy system synchronization – Servo synchronization is easy with the graphical mechanical editor. Simply drag and drop mechanical devices on the screen and set related parameters such as speed change gear ratio or clutch control type to drastically reduce configuration time of synchronous systems.
Simplify Traditionally Difficult Motion Tasks
Advanced synchronous control – Applications requiring camming will benefit from the simple cam function, which makes it easy to enable synchronous control with 3 different cam control modes. Control via software rather than mechanical components reduces maintenance and commissioning time, and increases machine flexibility.
Happy clients
OAK INTEGRATOR is a company specialized in automation product sales and programming services. Company managers are always open to give advice and share experience. Victor Tatishvili, Engineer - SIA JULENA
We would like to thank our cooperation partner OAK INTEGRATOR for solution for plant resource control - design, automation component supply and commissioning. We also thank for support with Programmable logic controller (PLC) programming. All our questions were resolved with great responsiveness and very professionally. Mārtiņš Velmeris, Technical Services Manager - ORKLA Latvija
Outstanding support for solutions that are you supply we are taking for granted. Both supplied products and after-sales is better than we have expected. You have provided support level and consultations as after-sales that other companies only offer as a paid service. Arturs Žipris, Head of the board - Mechanika Production
During June 2016. OAK INTEGRATOR have supplied Industrial Data Communication equipment from WESTERMO. All terms and delivery times have met agreement. We thank OAK INTEGRATOR team for competence and efficiency in process, supplying information and documentation. Rafail Kogan, Procurement department manager - SIA OLIMPS