Mitsubishi Electric iQ-F (FX5U) PLC
PLC
The Mitsubishi MELSEC-F Series has been reborn as the MELSEC iQ-F Series, offering enhanced high speed bus, expanded built-in functions, advanced SSCNETIII/H support and improved engineering environment. Program and parameters are set with the GXWorks3 engineering software.
From stand alone use to networked system application, MELSEC iQ-F brings your business to the next level of industry.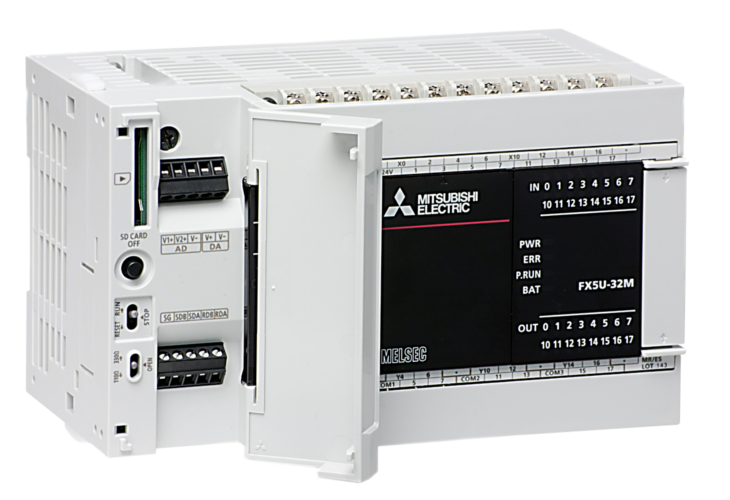 Designed to improve output
The FX5U gives the FX a performance boost and adds features that set benchmark standards for compact PLCs. It enables users to develop more complex and sophisticated automation systems, as well as higher performance applications, without having to migrate to a larger and more costly PLC family. At the same time, programming through the same GX Works software used for other controllers in the Mitsubishi Electric range supports scalability.
Making high performance control affordable
With their compact dimensions and unrivalled cost/performance ratio, the MELSEC iQ-F PLCs offer the means to drive up innovation in numerous machine control applications and automation tasks, giving users the functionality and flexibility to realise new ideas and increase system performance.
Improved connectivity
The FX5U offers simple connection options to a wide range of automation equipment, including Mitsubishi Electric servos and inverters, Cognex vision systems, networks and energy meters, with reduced wiring effort and no additional programming.
Security functions
To protect your intellectual property FX5U comes with several security functions like privilege based program access and program on SD card with copy protection password.
Positioning control
The FX5U includes Mitsubishi Electric´s Simple Motion Unit as an intelligent function module, providing the ability to perform sophisticated motion control for up to 4 axes. Functions include linear interpolation, circular interpolation, positioning control, synchronised control, encoder following and electronic cam.
Advanced synchronous control
Software-based synchronous control can be used as an alternative to mechanical control, such as gear, shaft, transmission and cam. In addition, cam control is even easier with cam auto-generation. Synchronous control can be simply operated (start/stop) for each axis, allowing synchronous and positional control axes within the same program.
More highlights
High speed input & outputs
Analogue and PID
Mark detection
Built in Ethernet
Backward compatibility
Simple troubleshooting
Specifications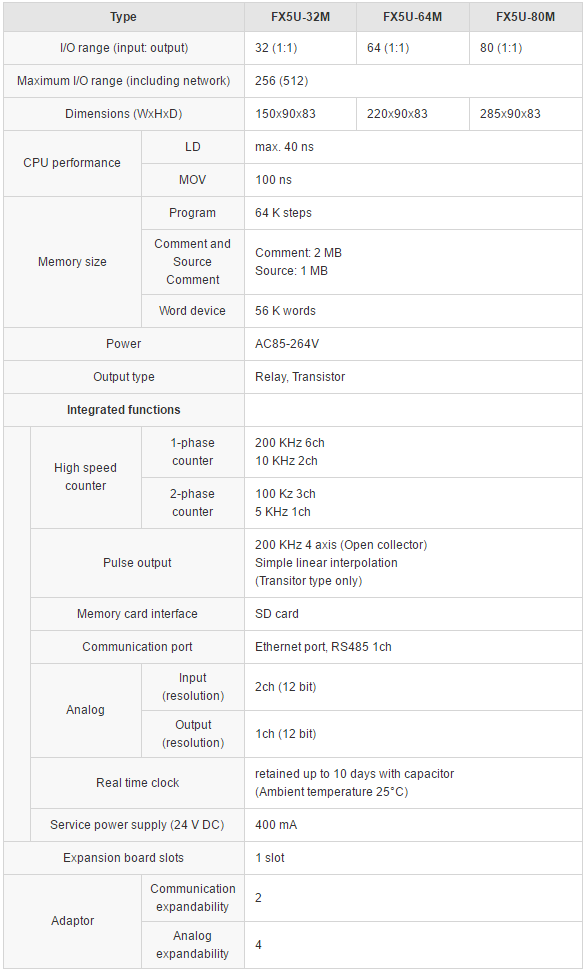 Click here for Mitsubishi Electric iQ-F online configuration tool
Visit Mitsubishi Electric web site for more info
Happy clients
OAK INTEGRATOR is a company specialized in automation product sales and programming services. Company managers are always open to give advice and share experience. Victor Tatishvili, Engineer - SIA JULENA
We would like to thank our cooperation partner OAK INTEGRATOR for solution for plant resource control - design, automation component supply and commissioning. We also thank for support with Programmable logic controller (PLC) programming. All our questions were resolved with great responsiveness and very professionally. Mārtiņš Velmeris, Technical Services Manager - ORKLA Latvija
Outstanding support for solutions that are you supply we are taking for granted. Both supplied products and after-sales is better than we have expected. You have provided support level and consultations as after-sales that other companies only offer as a paid service. Arturs Žipris, Head of the board - Mechanika Production
During June 2016. OAK INTEGRATOR have supplied Industrial Data Communication equipment from WESTERMO. All terms and delivery times have met agreement. We thank OAK INTEGRATOR team for competence and efficiency in process, supplying information and documentation. Rafail Kogan, Procurement department manager - SIA OLIMPS