Mitsubishi Electric MELSERVO-J4
Servo
The MELSERVO MR-J4 series of servo amplifiers and the associated positioning units, simple motion modules and high-end motion control systems from Mitsubishi Electric enable machine builders and end customers to increase production safety and improve productivity.
The MR-J4 amplifier series has been developed for the automation requirements of tomorrow. Mitsubishi Electric has incorporated numerous innovative and user-friendly functions to minimise the time-consuming and elaborate matching of mechanical and electronic systems.
The absolute encoder which is fitted as standard has a resolution of 22 bits. This corresponds to more than 4 million pulses/revolution. The result is excellent true-running characteristics and a maximum positioning accuracy and processing speed which more than satisfy the performance requirements of modern high-end machines.
Highlights
Single, dual and triple-axis amplifiers for improved economy, energy efficiency and cabinet space
Operation of rotary motors, linear motors and direct drive motors with a single unit
Safety at all times – STO (Safe Torque Off) and SS1 (Safe Stop 1) in accordance with EN 61800-5-2. SS2/SOS/SLS/SBC and SSM options available
MR-J4-TM with Multi Network interface (EtherCAT, Profinet, Ethernet/IP) for open connectivity with third party motion systems
Flexible motor selection
Another highlight of functionality and flexibility is the possibility of connecting different motors to the MR-J4 amplifier. The servo amplifier can be conveniently and easily used with rotary motors, linear motors and also direct drive motors.
User-friendly software
The MR Configurator2 programming tool allows convenient commissioning and diagnostics. Calibration, monitoring, diagnostics, reading and writing of parameters and test operation can be carried out easily on a standard PC. MR Configurator2 ensures a stable machine system, optimum control and short set-up times.
Product range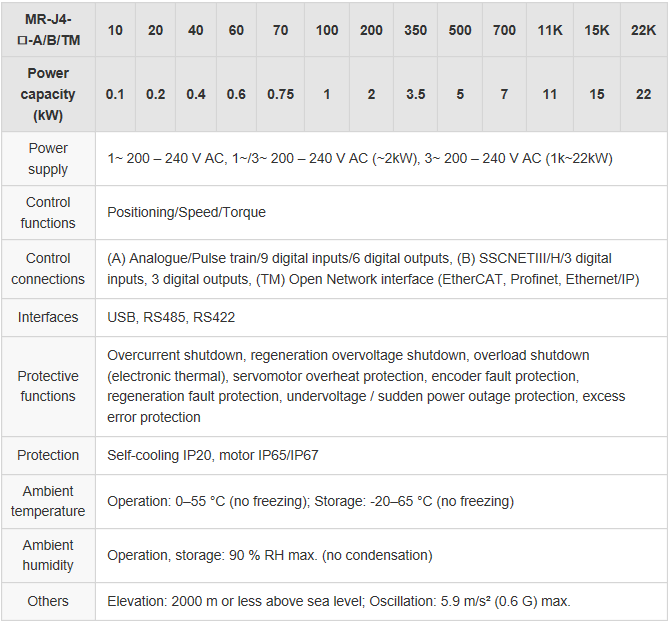 Happy clients
OAK INTEGRATOR is a company specialized in automation product sales and programming services. Company managers are always open to give advice and share experience. Victor Tatishvili, Engineer - SIA JULENA
We would like to thank our cooperation partner OAK INTEGRATOR for solution for plant resource control - design, automation component supply and commissioning. We also thank for support with Programmable logic controller (PLC) programming. All our questions were resolved with great responsiveness and very professionally. Mārtiņš Velmeris, Technical Services Manager - ORKLA Latvija
Outstanding support for solutions that are you supply we are taking for granted. Both supplied products and after-sales is better than we have expected. You have provided support level and consultations as after-sales that other companies only offer as a paid service. Arturs Žipris, Head of the board - Mechanika Production
During June 2016. OAK INTEGRATOR have supplied Industrial Data Communication equipment from WESTERMO. All terms and delivery times have met agreement. We thank OAK INTEGRATOR team for competence and efficiency in process, supplying information and documentation. Rafail Kogan, Procurement department manager - SIA OLIMPS