Mitsubishi Electric FR-F800
HVAC Frequency Inverter
Designed for unparalleled energy saving, optimised speed control, simple start-up, and versatility, Mitsubishi Electric has developed a new generation of drive technology: the remarkable FR‑F800.
The FR‑F800 is mainly designed to be used with pumps, fans and compressors and HVAC applications. It features many innovative functions that allow for the best compromise between efficiency and accurate control.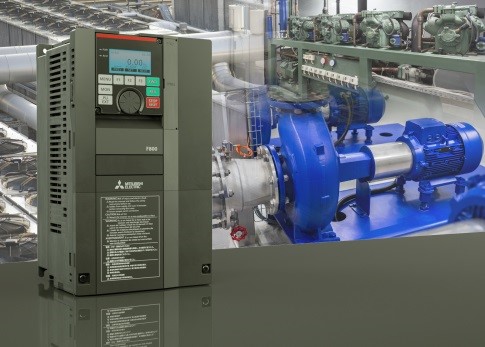 Range of FR‑F800 products
3 x 200-240V 0.75 > 110kW
3 x 380-500V 0.75 > 630kW
Powerful features and intelligent functions
Intelligent load detection
Pump clean function (de-ragging)
Motor preheat function
Mechanical resonance suppression
Fire override mode
Intelligent energy optimisation
Autotuning of any IM/PM motor
Built in safety function STO
Protection of your know-how
Easy to start up
Built in PLC function
Intelligent predictive maintenance
Easy system fault diagnosis
Advanced PID controller
At the heart of the FR‑F800 drive is an enhanced PID controller. This means that fan, pump and compressor control is easily handled without the need for external controllers. Furthermore the built-in PLC means true stand-alone capability. Some of the new PID functions are:
One drive can control multiple pumps
Second PID controller
Direct access to PID setpoint via the display
Pump Stir function
PID output hold (incl. multi-pump)
PID upper/lower limit pre-warning
Pipe burst detection / Dry run protection
Digitally selectable PID setpoints
Pipe soft fill to prevent water hammer
Water hammer avoidance at stop
PID pre-charge function
Pre-sleep boost function
Automatic PID gain tuning
Etc…
Network connectivity
CC-Link IE Field interface (FR-A8NCE)
CC-Link interface (FR-A8NC)
Profibus DPV1 with Dsub interface (A8NDPV1)
Profibus DP PPO legacy card (FR-A8NP)
Profinet 2-port interface for FR-A/F800 with Drive Profile (A8NPRT_2P)
EtherCat (A8NECT_2P)
Ethernet-IP 2-port interface (A8NEIP_2P)
DeviceNet™ interface (FR-A8ND)
Can Open (FR-A8NCA)
LONWORKS (FR-A8NL)
RS485 communication (Mitsubishi Electric drive protocol, Modbus-RTU protocol, BacNet) is supported as standard.
Happy clients
OAK INTEGRATOR is a company specialized in automation product sales and programming services. Company managers are always open to give advice and share experience. Victor Tatishvili, Engineer - SIA JULENA
We would like to thank our cooperation partner OAK INTEGRATOR for solution for plant resource control - design, automation component supply and commissioning. We also thank for support with Programmable logic controller (PLC) programming. All our questions were resolved with great responsiveness and very professionally. Mārtiņš Velmeris, Technical Services Manager - ORKLA Latvija
Outstanding support for solutions that are you supply we are taking for granted. Both supplied products and after-sales is better than we have expected. You have provided support level and consultations as after-sales that other companies only offer as a paid service. Arturs Žipris, Head of the board - Mechanika Production
During June 2016. OAK INTEGRATOR have supplied Industrial Data Communication equipment from WESTERMO. All terms and delivery times have met agreement. We thank OAK INTEGRATOR team for competence and efficiency in process, supplying information and documentation. Rafail Kogan, Procurement department manager - SIA OLIMPS